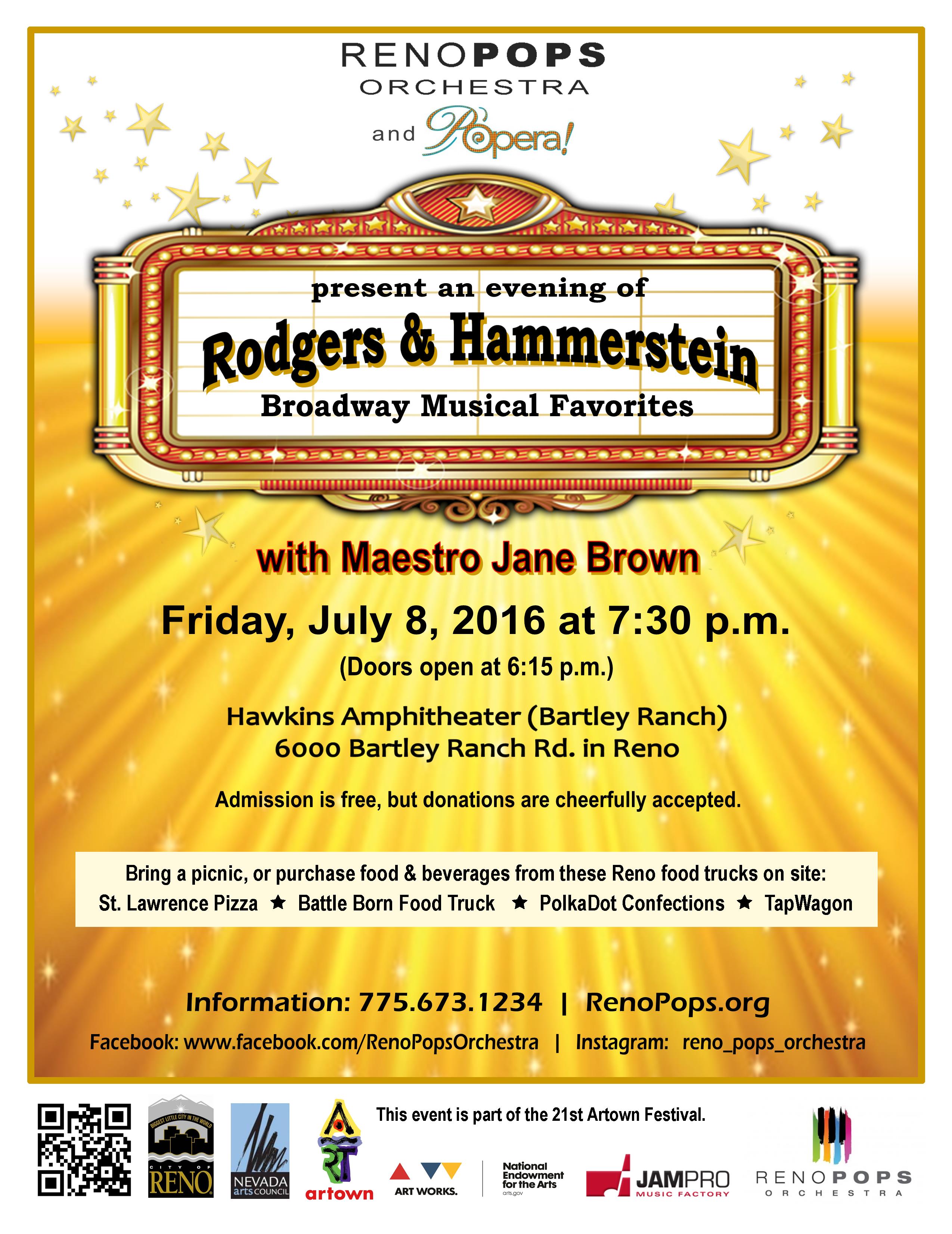 Performing at Hawkins Amphitheater located in Bartley Ranch, come watch the Reno Pops perform classic Broadway hits by Rodger + Hammerstein. July 8th at 7:30pm. Reno's very own P'Opera! will also be performing.
Free Admission!
Doors open at 6:15pm, so get there early!
Bring a picnic or purchase food and beverages from local food trucks: St. Lawrence Pizza, Battle Born Food Truck, Tap Wagon, and PolkaDog Confections.
"Broadway at Bartley"
July 8, 2016 at 7:30 pm
Hawkins Amphitheater at Bartley Ranch
PAST CONCERTS
"Sounds, Sights & City Lights"
May 21, 2016 at 7:00 pm
Nightingale Concert Hall, UNR
"Brave & Free!"
March 12, 2016
TMCC
"Home for the Holidays"
December 11, 2015
Grace Church
"Summon the Heroes"
November 7, 2015
Nightingale Concert Hall
"Space!"
July 10, 2015
Hawkins Amphitheater
"Safari!"
May 16, 2015
Nightingale Concert Hall
"Bio-Zones"
March 6, 2015
The Rock
"Joy to the World"
December 12, 2014
The Rock
"Scoundrels, Villains & Knaves"
November 8, 2014
Nightingale Concert Hall
"Wheels, Trains & Rocket Planes"
July 11, 2014
Hawkins Amphitheater
"Comedy Tonight!"
May 17, 2014
Nightingale Concert Hall
"Romance & Chivalry"
March 8, 2014
Nightingale Concert Hall
"Festive Holidays: Star of Wonder, Star of Light"
December 13, 2013
The Rock
"Time in a Bottle"
November 9, 2013
Nightingale Hall