Saturday, March 12, 2016
7:30 p.m.

Truckee Meadows Community College
7000 Dandini Blvd, Reno NV 89512
Admission: Free, but your donations are greatly appreciated!
The Reno Pops Orchestra is an all-volunteer orchestra which serves the Reno-Sparks community by providing free high-quality concerts and actively promoting music education to families and children. We are a 501(c)(3) non-profit orchestra funded by grants, sponsorships, and donations. g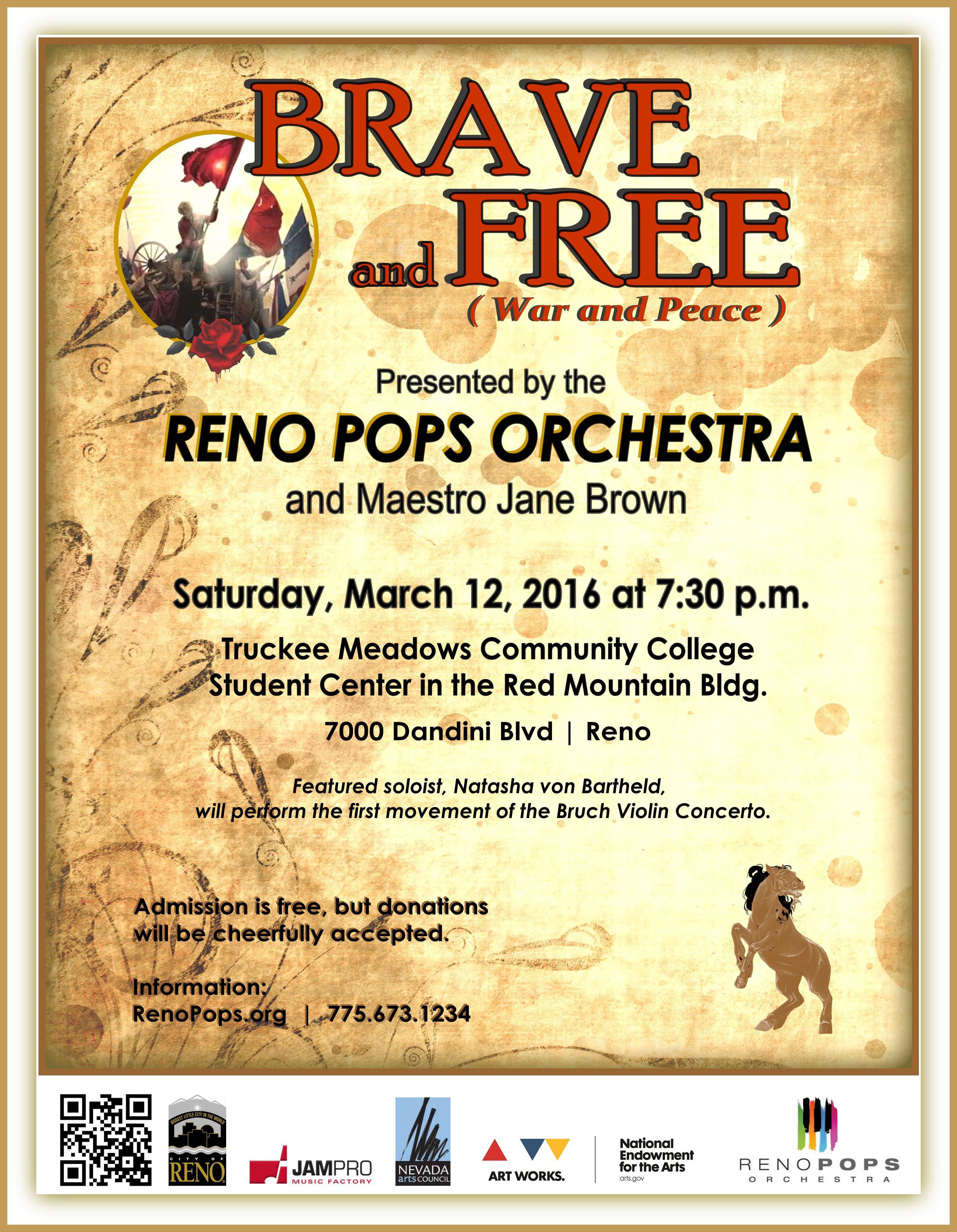 ---
Prepare to be awed and inspired by the soaring music of the Reno Pops Orchestra! The concert themed "Brave and Free" will stir your soul and give you goosebumps. Thrill to Prokofiev's "Battle on Ice" from Alexander Nevsky and Khachaturian's "Sabre Dance". (Remember those spinning plates on the Ed Sullivan Show?) You'll savor Morton Gould's rich arrangement of "When Johnny Comes Marching Home" as well as Trevor Jones's lush melody from "The Last of the Mohicans". We'll transport you to the battle for Scotland with the theme from "Braveheart" and to the trenches in The Great War with "Dartmoor" from "The War Horse". Recall incredible bravery against the Nazis and deep human compassion with "Schindler's List". Our interpretation of the fanfare played at the rededication of the Statue of Liberty will make any American swell with pride! Hold onto your hats, folks because you'll also be treated to Tschaikovsky's "1812 Overture". How will the Pops figure out fireworks and cannon fire indoors?  Come and find out!
As an added feature, you will hear one of Reno's most talented teenage musicians, violinist Natasha von Bartheld. Natasha has competed in many Reno Pops Concerto Festivals and was last year's winner. You'll be swept away by her performance of Max Bruch's sumptuous Concerto No. 1!